Saturday, May 03, 2008
Aura #010508
With Yuu #030508
Hana Yori Dango Final
Wallpaper
Hana Yori Dango Final
Photobook Ad & Movie Preview
Friday, May 02, 2008
Hana Yori Dango Final
The Television, +act Magazine,
H Magazine & Cinema Square
Toma wins Best Supporting Actor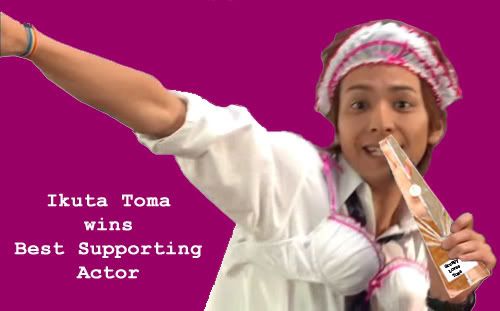 Photo courtesy of Grumpy (because Johnny won't even allow the paper that gave out the award to a Johnny boy the right to publish his image online. Boo ! Hisss !) Having said that, this one is fab. Ots !
Ikuta Toma wins Actor in a Supporting Role Award / Nikkan Drama Grand Prix
Ikuta gazed at the trophy and murmured "I'm receiving this award because I have been aided by so many people, they made me who I am today. I will never forget my debt of gratitude to them ne."
In 2007, he played a detestable villain role as a high school student in Hana Yori Dango 2. After that he displayed his comedic sense in the completely opposite role as Nakatsu. Later on, it was a supporting but indispensable role in Honey and Clover as someone naive and simple. He has shown himself in a variety of roles. Amongst them all, Hanazakari has been responsible for bringing Ikuta to fame. "The gallery at the filming location was sparse the first time we shot. During the last one, it was packed with crowds. People who have never done it before, small children and office workers, are calling out to me... I can feel the size of this drama."
"When I have an idea, I'll discuss it with the staff. Even that scene with the panty covering my head, I set my brains on fire thinking thoroughly about it for 3 months." The drama then promised the solo Ikuta unrequited love delusion scene.
Nakatsu posing with a panty on his head, dressing as a nurse in pink. "This work winning an award, it's because of the large wardrobe we had so I have to give the award to it, thanks a lot." The depth in his heart. The possibilities are infinite.
Excerpts from Nikkan Sports
30th April

助演男優賞は生田斗真/日刊ドラマGP

<第11回日刊スポーツ・ドラマグランプリ受賞者発表>

 ジャニーズの異色タレント生田斗真(23)が、「第11回日刊スポーツ・ドラマグランプリ」の助演男優賞を受賞した。フジテレビ系「花ざかりの君たちへ~イケメン♂パラダイス」の中津秀一役で、コメディーセンスを存分に発揮。一躍知名度をアップさせた。クールな二枚目の裏に潜む素顔は、泉谷しげる(59)にあこがれる熱血漢だった。

 生田はトロフィーを見つめてつぶやいた。「賞をもらえるのは、これまで多くの人にお世話になって、今の自分があるから。義理人情は絶対に忘れちゃいけないですよね」。

 07年は、「花より男子2」で悪役高校生を憎々しく演じた後に、この中津役で対極のコメディーセンスを発揮した。その後には「ハチミツとクローバー」で、準主役の純朴な狂言回しと、多彩な演技を披露した。中でも「花ざかり-」は生田にとっての出世作。「初回のロケではパラパラだったギャラリーが、最終回では人だかり。僕もチビッコやサラリーマンという、今までにない人たちにまで声を掛けてもらうようになって…。このドラマの大きさを感じました」。

 同世代の男(ライバル)ばかりの現場は刺激的で、自由な雰囲気だった。「いい意味での競争社会で、力を合わせていると実感できた。アイデアを持って行くと、スタッフがディスカッションしてくれる。パンティーのかぶり方1つまで、必死に考え抜いた3カ月間でした」。生田1人での片思い妄想シーンは、ドラマのお約束になった。

 口をつく言葉は、冒頭のつぶやき同様にしゃれっ気はなく、むしろ武骨だ。格好良さの定義を尋ねると「男として仕事に必死で、結果も残して、毎日楽しそうにうまいお酒を飲んでいる大人たち」と答えた。「カッコイイと思えた先輩たちは、みんなかっこつけない人たちでした」。

 例えば「ハチミツ-」で共演した泉谷しげる。「『最近のバンドがいい曲を出しているのを見ると、メチャクチャ悔しい』って言われるんです。あの年で本気で悔しがる泉谷さんって、メチャ輝いている。それを聞いてると、何でオレはまだ23歳なんだって悔しくなるほど」(笑い)。泉谷の頭ではなく魂が、まぶしかったという。

 ジャニーズでは異端児だ。成人ながら、いまだ歌手デビューしていないジャニーズJr.。それでも、俳優として名を上げ、CMにも単独出演する。「昨年大みそかのカウントダウンコンサートでは、子(ね)年の赤西仁、錦戸亮たちと"年男コーナー"みたいのがあったんですけど、彼らはKAT-TUNやNEWSとしても出番がある。オレはここにいて大丈夫かなと(苦笑い)。でも、人と違うことは好きですし、不安定な分必死になれますから」。

 中津役のようにパンティーをかぶるポーズか、ピンクのナース姿を撮りたかったと言うと「この作品での受賞ですから、衣装持ってきてくださったら、アリでしたよ」。この懐の深さ。可能性は無限大だ。【瀬津真也】

 ◆生田斗真(いくた・とうま)1984年(昭59)10月7日、北海道生まれ。96年ジャニーズ事務所入り。同年の「天才てれびくん」でデビュー。代表作は97年朝の連続テレビ小説「あぐり」など。舞台でも活躍。CMは今年のケンタッキーに出演。175センチ。血液型A。

Labels: Hanazakari no Kimitachi e, Hanazakari no Kimitachi e SP, Ikuta Toma
Full Post »
---
Wednesday, April 30, 2008
Horikita Maki wins Best Actress
Tuesday, April 29, 2008
Hanazakari no Kimitachi e
Ikemens with their Poster
Classic Forever !
Monday, April 28, 2008
Old Flames and Flaming Red Hot Photos
Hana Yori Dango Final
Hanazawa Rui Postcard
Hana Kimi SP
Crank Up Present
Aura #270408
With Yuu #270408
Sunday, April 27, 2008
Hana Yori Dango Final
Tickets & Postcards
Back to Main
-Current Japan Time-
Back to Main