Saturday, April 19, 2008
Aura #190408
Zettai Kareshi
Mizushima Hiro Special
Part 1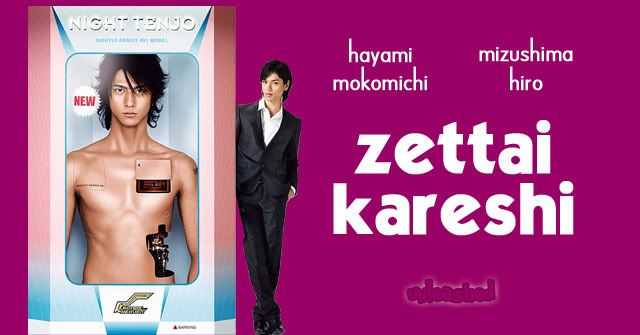 Zettai Kareshi
-Mizushima Hiro's Soushi Mutual Love!?-
-Part 1-
Theme Asamoto Soushi
Good day, Mizushima Hiro here. From now on, I will start writing a series of 「Mizushima Hiro's Soushi Mutual Love !?」 I'll write about things like what I think or feel at the filming location and I'll also talk about my own thoughts about love. I'll be glad if you can keep me company.
First, my thoughts on playing the role of Asamoto Soushi. Soushi is the son of a distinguished family running a major corporation. Moreover, being the second son and raised in an environment where he never had to worry about money or work, he's quite the o-bocchan. For that reason, he is self-centered, and while he holds the post of Planning and Development General Manager, his subordinates have totally no faith in him (*laugh*) Even though he's like that, I love Soushi. The reason is that though he may appear irresponsible, he's actually manly and is the type of fella with a 'core'. Up till now his personality hasn't been awakened, well there really wasn't any reason for it to, being fortunately (or unfortunately) blessed with his wealth. If you want for something, and a difficult situation arises, you should make an effort before getting results. But naturally this is the o-bocchan who would not be moved to action if there were no such adverse situation (*laugh*) When I play Soushi, I want to properly convey his over-optimism and I'm always aware of letting a little of his childishness show. Please look forward to Soushi turning out like that.
And then from now on, the person Soushi would have in his mind is Riko (Aibu Saki). Presently, Soushi has an instinctive dislike against Riko (*laugh*) Soushi is like a child too, he doesn't think of changing himself. He became interested in her, that is started to develop feelings for her, because of her ability to make cakes. And also when he recognized that ability, Souji realized that deep in his heart he actually has the passion for cake-making. What kind of change will be awakened in Soushi because of Riko's existence ? When the change happens, what will Riko think of Soushi ? Furthermore, while he is thinking of Riko and she becomes the target of his affections, how would he feel about her being constantly together with Night (Hayami Mokomichi) ? The relationship among these 3 people looks like it will undergo some interesting developments.
絶対彼氏
-水嶋ヒロのソウシ相愛!?-
-第1回-
デーマ「浅元創志」
こんにちは、水嶋ヒロです。今回から始まる連載「水嶋ヒロのソウシ相愛!?」では、僕が『絶対彼氏』の現場で思ったことや感じたこと、そして僕自身の恋愛感などを話していこうと思います。お付き合いいただけると嬉しいです。
 まずは、僕の演じる浅元創志のことについて。創志は大会社の御曹司、しかも次男ということで何もしなくてもお金にも仕事にも困らない環境で育ってきたせいか、かなりの"お坊ちゃん"です。それゆえか自分勝手なところがあって、企画開発室室長という役職にありながら部下にはまったく信頼されていない状況(笑)。そんな創志ですが、僕は結構好きなんです。なぜならば、ちゃらんぽらんに見えて実は男らしくて芯のあるヤツだと思うから。今までは幸か不幸か恵まれた環境にいたから何も行動を起こさないし、起こす必要もなかった。けど、何かを求められたり、苦境に立っていたとしたら結果を出そうと努力していたはず。もっとも逆境にならないと動かないっていうのが"お坊ちゃん"なんですけど(笑)。創志を演じるうえでこのお坊ちゃんゆえの甘さをきちんと表現したいと、少し子供っぽさを出すように意識しています。どんな創志になるか、楽しみにしていてください。
 そして、創志にとって今後気になる存在になるのが梨衣子(相武紗季)。現時点で、創志は梨衣子にかなり毛嫌いされていて(笑)、創志も変わってる子くらいにしか思ってない。気になるというのは恋愛感情ではなくお菓子作りの才能のことなんです。でも、その才能に気付くということは、創志の心の奥にお菓子作りに対する情熱があるということ。梨衣子の存在で創志にどんな変化が起こるのか。その変化が起きた時に梨衣子は創志をどう思うのか。さらに、梨衣子が恋愛対象として気になる存在になった時に、常に一緒にいるナイト(速水もこみち)を創志はどのように感じるのか。3人の関係は、これからいろいろ楽しみな展開がありそうです。
~
o-bocchan → inexperienced young man from a well-to-do family (like Doumyouji !)
I actually have not watched the first episode yet, so translating this took a quite a bit of head-scratching (-_-メ;) Just wanted to have a go at doing a text without much prep knowledge beforehand. Will amend if there's any glaring mistakes in the basic info after Episode 1 (/_\)
As always, thanks to Grumpy for banner ! Ots !
Labels: Hayami Mokomichi, Mizushima Hiro, Zettai Kareshi
Full Post »
---
With Yuu #180408
With Yuu #170408
Thursday, April 17, 2008
Hana Kimi SP
Rumoured Broadcast Date
Post Hana Kimi SP
Still together~
With Yuu #160408
Wednesday, April 16, 2008
Aura #170408
Maki playing a Goalkeeper !
Hana Yori Dango Final
Jun in TV Life
Hana Kimi SP
Random Ikemen's Blog
Hana Kimi SP
2 hours ?
With Yuu #150408
Tuesday, April 15, 2008
Hana Kimi SP
Cast Get Together
Hana Kimi SP
Random Ikemen's Blog
Hana Kimi SP
Toshihiko Blog 11th April
Aura #130408
Back to Main
-Current Japan Time-
Back to Main