Tuesday, August 05, 2008
Hana Kimi SP
Still no broadcast date !
The rumoured broadcast date came and went and no ikemens passed by. [I think it's because they didn't want it to get buried under the media avalanche of the other Hana :D] Lost all my 2ch threads with the pc, but last I checked, there were vague references to Sept-Oct. Which are probably just educated (and hopeful!) guesses since it's between the Summer and Autumn drama seasons. I'm quite out of the loop at the moment but I'm pretty sure it's not as posted on
DramaWiki
.
花ざかりの君たちへ~花樣少年少女~ is the tagline for the Taiwanese Hana Kimi which aired in Japan on a
few different stations
. Starting April, it aired every Wednesday 22:00~22:55 on
TOKYO MX
. 6th August is a Wednesday and the air time is the same so I think the SP was mixed up with this.
Anyway, the SP will surely run longer and there'll definitely be some fanfare before it airs o( ^_^ )o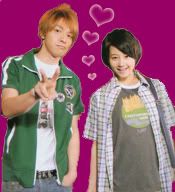 Labels: Hanazakari no Kimitachi e SP
On Tuesday, August 05, 2008 12:39:00 PM, wrote...

hmm..yea, I agree that they will have an amazing promotion for the SP.It'll definitely get our Hana-Kimi fevers up again XD I just hope it'll be soon.

---

On Tuesday, August 05, 2008 4:29:00 PM, wrote...

---
Back to Main
-Current Japan Time-
Back to Main