Sunday, May 11, 2008
Boo : The Final
Hey somerutsuki & cammy08, thanks. I woke up from my nap thinking nah, shouldn't have made a big deal and be an adult about it. But I realize, what the heck, this is my own blog anyway and I hardly ever post any of this 'personal' stuff so this time I'll unleash the fury and get it done and over with. For everyone else, the regular transmission will resume after this post.

See the thing is this. The translations look short and probably take 10 seconds to read. But between the program names, places, people, slang and head-scratching trying to figure out a sentence, it takes a while, especially when you're starting out. I wouldn't have understood how people could get so mad for their 'mere' translations being pilfered before this, but I do now.

So, she took it off the Yusuke archive. It's pretty bare there so maybe the blog just updates by itself automatically (+_+)People would usually at least ask from the source before reposting chunks of stuff. Like a request at the Shirota Yuu archive, which by the way, was promptly replied no problem, as always.

Anyway, what actually irked me was her claim to the translations, not the reposting themselves. Now that it's brought up, she lets it out that she initially translated them, but when her friend found the Yusuke archive, she started using them. But between the shift from her own translations and mine, she didn't mention anything at all. She wants to protect her source, fine, but she should clearly state that she did not write them. In the meantime, people thanked her for the hard work, and she just accepted them.




C'mon, they couldn't be possibly be saying thanks for the labour of copy + paste right. If no one had said anything, I doubt she would have ever posted her new clarification of


to clear things up..they WERE translated by me..atfirst <-- THEN my friend found me a website..already translated... because he said my translation suck..xD there i use "WORDPRESS"..sorry for any inconveniences.. T_T


(-、-)丿

Alrite, I'll cut the kid a little slack.
No more these balls of fury, that's it.

To somerutsuki and cammy08 thanks again :) For Murii, Jen and princess_jime, thanks too. Grumpy also wants to shower all of you with her thanks (because she said she had to put up with my grumblings). And in her usual style, does it with some fancy image.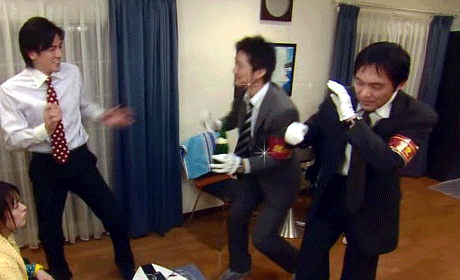 On Sunday, May 11, 2008 2:03:00 AM, wrote...

that has got to be my fav gif!! lol.

ok, Grumpy would like to say yay that the saga is over :) cos an angry Geek would mean no translations for us. Even tho some posts make me angry haha (get over shun+yu already!!).

while we're at it, to the readers here: take the gifs if u want to, but please host them yourselves. that's all there is to it :)

---

On Tuesday, May 13, 2008 2:37:00 PM, wrote...

Tut! Tut!

What the girl did is unforgivable in my eyes! It is hard to do translations! Besides, taking something and claiming it as your own is just plain wrong. How hard is crediting anyway? Just copy + paste too the name and site of the original translation...

Ughhh.

(This is my first time to comment here.)

-Zephie

---

On Wednesday, May 14, 2008 2:38:00 AM, unleashthegeek wrote...

---
Back to Main
-Current Japan Time-
Back to Main