Tuesday, April 22, 2008
Zettai Kareshi
Interview with Mokomichi Hayami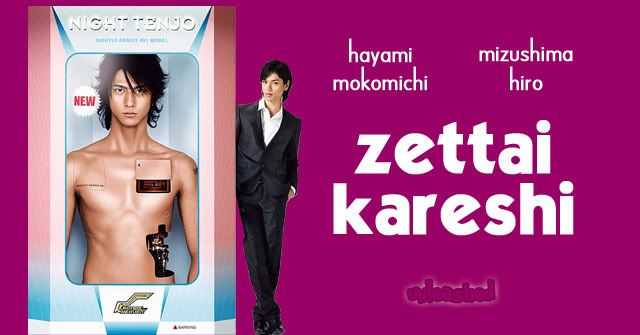 Q. What did you think of Zettai Kareshi when you first heard of it ?
The first time I heard of it was "You're playing a robot-type of lover." Honestly, I was surprised (*laugh*) But when I read the original work, it was really interesting. I'm looking forward to portraying that image while the drama, up to now, is different from it. It's the first time I'm playing a robot and I feel excited about doing it.
Q. Do you have an image of how to play the role of a robot ?
When you hear robot, inevitably you're going to think of its jerky movements but the Tenjo Night I'm playing this time is an enhanced-performance humanoid robot. Regarding the movement, it's not really unnatural and it looks like I can move around more smoothly. Nevertheless, he's not perfectly human. He demonstrates superhuman ability and his thoughts and speech are a little off. How to show those robot-like parts, I think I'll have a feel for it during filming itself.
Q. What kind of character is Tenjo Night ?
He loves only one woman whole-heartedly, that type of man... no, robot I mean (*laugh*) As you would expect from a robot he doesn't have his own sense of self at first, everything is tied to 'loving Riko'.
Q. Before long, his sense of self is going to be awakened. How do you think you're going to play that part ?
Night is the type of robot who learns as he goes along, so as he comes into contact with Riko and Soushi, he will learn that he does not possess a human heart in himself. It's difficult to show much change in expression as he changes inside but I think it's good if for example, he is able to naturally show interest in things around him like a baby does when it starts to grow up.
Q. Night is very straight in showing his affection. Is there any part where he feels embarrassed ?
Not particularly. When he says "I love you" to Riko, or gladly does whatever she wants, these feelings are embodied in him already so being frank about it is important to him.
Q. What does Mokomichi-san think about Night being the perfect boyfriend ?
It's great how he puts in so much effort in everything, and I understand that. If I had someone I'm in love with, I don't think I can be as persistent as Night. But of course to be loved by someone, you have to give it a go with all your heart. Naturally, when you tell the other person that you love her, you want the other party to say the same thing back to you.
Q. What do you think a woman wants in an 'ideal boyfriend'?
I think everyone has their own ideal type and there's no universal ideal. Besides, I myself don't really know a lot of the things about the way women feel (*laugh*) But if I'm a woman, I'll be attracted to a man who puts in his utmost effort in everything he does.
Q. If you say that, then Night is Mokomichi-san's idea of an ideal lover, ne.
I would want anyone to look at me and think that way (*laugh*) At first, there were so many aspects lacking in him, but as he slowly grows up, I'll be happy if people started to think "It'll be great if such a robot can appear na." I'll work hard to be the Night than can tickle a woman's fancy !
Q. By the way, would Mokomichi-san want an "Absolute Girlfriend" robot ?
Well...., I'd want it ..... maybe (*laugh*)
Q. What sort of requirements will you program in this "Absolute Girlfriend" ?
For me, it's enough that she puts in the utmost effort in whatever she does. To soldier on, no matter what comes along, even if it feels hopeless, and working it out together, that's the ideal ne. When I have the time, I'll cook for myself but cooking by yourself and then eating by yourself is lonely... To cook with a girlfriend, that's what I yearn for ne. So, I think that's what I want, to cook together.
Q. Your impressions of Mizushima Hiro-san and Aibu Saki-san ?
This is the 3rd time I'm appearing together with Hiro-kun and the second time with Aibu-san. Hiro-kun is very serious but also a little spontaneous, he's interesting. Aibu-san is always full of energy and cheerful, a mood-maker during filming, livening things up. I get along with the both of them, so it looks like filming will be fun.
Q. Finally, please show your enthusiasm for Zettai Kareshi !
I think I will fully enjoy depicting a 'growing' robot who changes from his original configuration. The interweaving of a robot and human will create interesting parts and there'll also be the pain of love. This looks like it will turn out to be something new, so please watch it with anticipation !
Q.最初に「絶対彼氏」の話を聞いて、どう思われましたか?
最初に聞いたのが「演じるのは"恋人型ロボット"です」で。正直、ビックリしました(笑)。でも、原作を読ませていただいたらとてもおもしろくて、これを映像にしたらきっと今までとは違うドラマができるんじゃないかと楽しみになりました。ロボットを演じるのは初めてですが、今はワクワクしていてやりがいを感じています。
Q.ロボットを演じるにあたりイメージしていることはありますか?
ロボットと聞くとどうしてもギクシャクした動きを想像してしまいますが、今回、僕の演じる天城ナイトは高性能な人間型ロボット。動きに関しては、あまり不自然なところはなく自然に演じられそうです。だからといって完全に人間と一緒ということではないので、超人的な能力を発揮したり、思考や発言がちょっとズレているようなロボットらしい部分をどう演じていくかは現場で探りながらやっていこうと思います。
Q.天城ナイトはどんなキャラクターですか?
1人の女性だけをひたすら愛する一途な人…いえ、ロボットです(笑)。ロボットなだけに最初は自我がないので、言動すべてが"梨衣子を愛すること"につながっています。
Q.やがて自我に目覚めていくようですが、どのように演じようと思っていますか?
ナイトは学習するロボットなので、梨衣子や創志と接していくうちに自分にはない人間の心を学んでいくと思うんです。心の変化なので表現するのは難しそうですが、例えば赤ちゃんがいろんなことを吸収して育っていくような感じで自然に見せていければいいなと思ってます。
Q.ナイトは愛情表現がとてもストレートですが、照れはありませんか?
特にないです。ナイトの「大好きだよ」って言葉は、梨衣子のために何かをしたい、喜んでもらいたいという気持ちの表れなので、素直に言うことが大事だと思ってます。
Q.ナイトのような"絶対的な彼"を、速水さんはどう思いますか?
一生懸命なところは素敵だし、理解もできます。もし僕に好きな人ができたとしたら、ナイトほどしつこくないにしても、やっぱり好きになってもらおうと一生懸命頑張ると思うんです。もちろん"好き"はちゃんと言葉に出して伝えたいし、相手にも言ってもらいたいです。
Q.女性にとって"理想の恋人"とは、どんな彼だと思いますか?
理想のタイプは人それぞれなので一概には言えないと思います。それに僕自身も女性の気持ちがわからないことの方が多いですから(笑)。ただ僕が女性なら、何事に対しても一生懸命な男性に惹かれますね。
Q.それでいえば、ナイトは速水さんの"理想の恋人"ですね。
僕より見ている方にそう思って欲しいです(笑)。最初はいろんな面で足りない部分もありますが、どんどん成長していくうちに「こういうロボットが現れてくれたらいいな」と思ってもらえたら嬉しいです。女心をくすぐるようなナイトになるように頑張ります!
Q.ちなみに速水さんは"絶対彼女"(ロボット)は欲しいですか?
そうですね…、欲しい。……かも(笑)。
Q.その"絶対彼女"にプログラムする条件は?
僕に対して一生懸命であること、それだけでいいです。何もかもやってくれると自分がダメになっていきそうなので、一緒に作業をしてくれるのが理想ですね。僕は時間があると自炊するんですが、1人で料理をして1人で食べてると寂しくて…。彼女と一緒に料理するのって憧れますね。なので、一緒に料理をしたいと思います。
Q.水嶋ヒロさん、相武紗季さんの印象は?
ヒロくんは3回目、相武さんは2回目の共演。ヒロくんはとても真面目だけどちょっと天然でおもしろいし、相武さんは常に明るく元気で現場を盛り上げてくれるムードメーカー。気心知れた2人なので、楽しい現場になりそうです。
Q.最後に「絶対彼氏」に挑む意気込みをお願いします!
ロボットの成長を描くという変わった設定を思う存分楽しみたいと思います。ロボットと人間がおりなすドタバタとしたおもしろさや恋愛の切なさなど、新しい形の作品になると思うので期待していてください!
~
Some of his answers were definitely deliberately programmed to induce spasms ♪~( ̄ε ̄;)
Just a note, if you want to repost, please host images on your own. Yoroshiku, ne.
Labels: Hayami Mokomichi, Mizushima Hiro, Zettai Kareshi
On Thursday, April 24, 2008 5:33:00 AM, Princess_jime wrote...

Thanks again for translating ZK stuff!!! I love it. michi is such a cutey pie. But how can he answer the "would you order a robot girlfriend" question without sounding hentai? LOL!
I'm really looking forward to watching naito's growing, as a robot... Hahahaha!

---

On Saturday, April 26, 2008 11:54:00 PM, unleashthegeek wrote...

---
Back to Main
-Current Japan Time-
Back to Main