Sunday, April 20, 2008
Zettai Kareshi
Mizushima Hiro Special
Part 2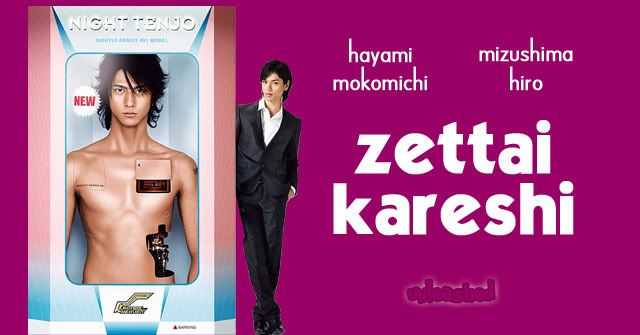 Zettai Kareshi
-Mizushima Hiro's Soushi Mutual Love!?-
-Part 2-
Theme Hayami Mokomichi-san, Aibu Saki-san
This time, I'll talk about my co-stars and the atmosphere at the filming location.
I have worked together with Hayami Mokomichi-san many times before. He's a very considerate and kind person, always been a good senpai to me. Our scenes together in Zattai Kareshi are few and so we met only a few times and didn't have time to have a leisurely talk. But after this there will be more of our scenes together and I look forward to that.
As for Aibu Saki-san, this is the first time we're appearing together. The first time we met, she kept humming the CM song to herself "I'm Aibu Saki ~♪" (*laugh*) Most of Soushi's scenes are with Riko so I thought of what I could do to quickly throw off my reserve. For me, there are numerous times when somehow there's like a a wall between me and someone who I'm meeting for the first time. I feel like I, myself, have to bring down that barrier so we can talk to each other. The song turned out to be a tactic to break down that wall, and it was a successful tactic, I managed to completely loosen up. Aibu-san is always cheerful and lively though so I think we would have been alright even without the strategy... (*laugh*) She's a mood-maker, often talking to the actors and staff at the filming location. It wouldn't be an exaggeration to say that her cheerful manner changes the energy of the set (*laugh*)
Speaking of that, filming has only just started. At the moment, when on location, I'm always under the guidance of the director. We have 1-to-1 discussion and consultation. From now on for Zettai Kareshi, we'll spend more and more time doing so and I think that I will have fun while working to produce a great piece of work. Please give me your support, yoroshiku onegai shimasu !
絶対彼氏
-水嶋ヒロのソウシ相愛!?-
-第2回-
デーマ「速水もこみちさん、相武紗季さん」
今回は共演者の方や現場の雰囲気について話そうと思います。
速水もこみちさんとは以前から何度か共演させていただいています。すごく気配りのできる優しい人で、僕にとってはいい先輩です。「絶対彼氏」では一緒のシーンが少なくて、まだ数回しか会えてないのでゆっくり話す時間もないんですが、これから一緒のシーンが増えるので楽しみです。
相武紗季さんは今回が初共演。初対面の日に「私、相武紗季~♪」というCMの歌をず~っと口ずさんでました(笑)。創志のシーンはほとんどが梨衣子と一緒ということもあり、僕なりに早く打ち解けようという思いからの行動だったんです。僕はなぜか初対面の人には壁があるように思われてしまうことが多くて、自分からそれを崩していかないとなかなか話せるようにならないんです。今回歌ったのは僕の壁崩し作戦なんですが、作戦は成功で、すっかり打ち解けることができました。といっても、相武さんはいつも明るく元気で作戦がなくても大丈夫だったような気がしないでもなく…(笑)。現場では出演者やスタッフとよく話していてムードメーカー的な存在。相武さんの元気ぶりで現場の活気が違ってくるといっても過言ではありません(笑)。
ということで、まだ撮影は始まったばかり。僕は、現場ではいつも監督におんぶに抱っこ状態。1つ1つ話し合いや相談をさせてもらいますが、「絶対彼氏」でもこれからたくさんそういう時間を積み重ねて、楽しみながらいい作品を作っていこうと思います。応援よろしくお願いします!
~
Both of them are represented by Ken-on. Although Hiro is a few months older than Mokomichi, I think he calls Mokomichi his senpai as Mokomichi was in Ken-on earlier.
Labels: Hayami Mokomichi, Mizushima Hiro, Zettai Kareshi
---

---

---

---

---

---
Back to Main
-Current Japan Time-
Back to Main